Autobarrios SanCristobal / Self Made Neighborhoods
Action / Public Space / Self-
Madrid, Spain
2012
Espacios urbanos. Wood.
Autobarrios was launched in January 2012 in the Madrid suburb of San Cristóbal de los Ángeles. The goal of this project was not to create a new responsibility for the neighborhood but to join in to existing processes, becoming an excuse to consolidate them. After that, various neighborhood associations joined forces to create a platform that is now managing the Self-made-neighborhoods project.
This platform defined Autobarrios SanCristobal as a collective process of revival of an abandoned space, reinventing its function and use by building evocative urban space by and for neighborhood youth and other neighbours.
Since then, the project has followed a natural process based on the consolidation of trust between the different actors. The project has also focused on connecting local resources to encourage, define and make possible the main initiatives. Nowadays this process continues developing and enabling the managment and start-up of the urban space, whose construction was completed in May 2014, looking after the cultural and social activities programmed that allow the neighborhood to evolve and grow.
All the images of the project in the facebook of Autobarrios SanCristobal.
VIDEOS
THE PROCESS
Strategies of community urban development initiative to dignify and transform an abandoned place in a useful space that respond to the needs of the residents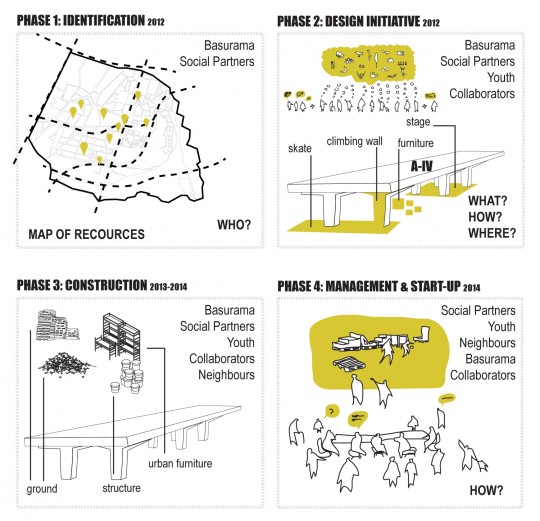 PHASE III (2013-2014) REVITALIZATION Y CONSTRUCTION
Autobarrios SanCristobal is an organic project that evolve in real time. In the construction phase, the available ressources delimit the design of the urban furniture, the associated uses and execution times. That way, interventions were guided by the available possibilities and were planned and executed independently.
The proposals drawn by the participants define a living space made of active uses, not defined only by the design of furniture but also by the following social and cultural production.
> Phase 1 = Refurbishment
+ Painting > revitalization of 1945 m2 surface: #colorfulsancris Part I (February 2013) y Part II (May 2013) developed with Boa Mistura. In collaboration with Productos Diez and Torremovil – Layher.

+ Floors > cleaning and adjustment of 2597 m2: #arreglandolapachamama (September 2013) in collaboration with Madrid City Hall.
> Phase 2 = Construction
+ Multiuse urban structure > revitalization of the northern area (1131 m2): #bricosancris Part II (November 2013) developed with Collectif Etc. In collaboration with Institut Français de Madrid, Matadero Madrid, Acciona and Renault.
+ Multiuse urban structure > revitalization of the southern area (726 m2): #bricosancris Part III (April 2014). In collaboration with Matadero Madrid, Acciona and Renault.
+ Floors > construction of a sheltered path of rain in the northwestern area: #bricosancris Part IV (May 2014). In collaboration with Bibliobuses Madrid, Acciona y Renault.
> Phase 3 = Finishing Touch

+ Electrical Connection / Wifi Connection
+ Equipment (signage, security, cleaning)
PHASE IV (2014) MANAGMENT & START-UP

Public space is continuously constructed through social and cultural production that maintains a place alive and constantly evolving: in this context is inscribed the training of young neighborhood of San Cristobal in the sustainable management of local activation and space recovered. A technical and cultural training that allowed to consolidate processes that are already underway in the neighborhood and activate those that are not, making young people cultural managers in their own space.
The Cultural Management Course will work with young people, since June, cultural, technical and administrative autonomy to facilitate cultural experiences under the recovered bridge.
DEVELOPED WITH

Young people are the protagonists of this project. They are the designers and builders of a public space that would be use by the whole district.
> Network of social partners and neighborhood of San Cristóbal de los Ángeles: Local associations and groups that are part of the Platform for Autobarrios initiatives that ensures the appropriate way to guide and monitor the entire process for integrating the project into the social tissue of the neighborhood.
Casa San Cristóbal-Fundación Montemadrid: social center open to the neighborhood, has a strong social and cultural programme. Collaborates and partially finances the project Autobarrios SanCristobal with La Casa Encendida of Fundación Especial CajaMadrid.
Educación Cultura y Solidaridad: Nonprofit Association. Working for social integration in the neighborhood, offering socio-cultural resources to children, youth, adults and families in the neighborhood.
Asociación de Vecinos La Unidad de San Cristóbal: created in 1978 and declared "public utility" in 1985, works on participation, promotion and management of various plans for the improvement of the neighborhood and the defense of the interests of the residents
> Partners: Professionals who collaborate to provide advice and a quality finished to the technic part of the project.
Boa Mistura: Collective of artists born in Madrid mainly involved in public space through urban art, having carried out projects in South Africa, Norway, Berlin or Brasil.
Collectif Etc: Group of French architects who build public space integrating local people in the creative process.
lacasinegra / Vermut / Nervio Films&Foto: Art collectives focused on the creation, management, research, reflection and cultural production through film making and audio-visual devices.
Obsoletos: research project, creation and distribution of creative transformation systems technological waste.
> Network of business partners from the industrial area of Villaverde:  Local companies – major players in the development of the District of Villaverde – who collaborate through their implication as professionals, giving tools or providing materials or unused stock that can be reused for shaping the space.
ProductosDIEZ S.A. Enamels and paints factory.

Torremovil de Layher Scaffolding systems company.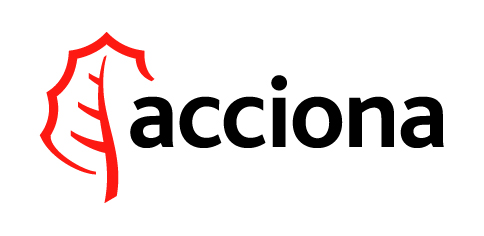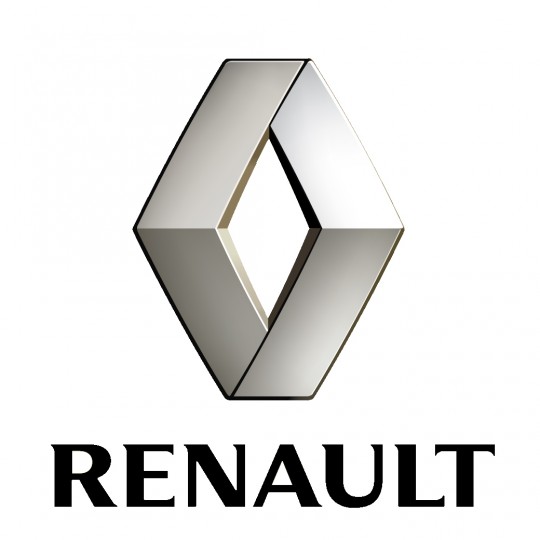 > Other Partners: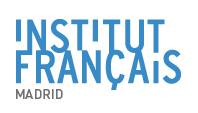 FUNDED BY:
Casa San Cristóbal and La Casa Encendida – Fundación Montemadrid

More info: