Basurama is an artist collective dedicated to research, cultural and environmental creation and production whose practice revolves around the reflection of trash, waste and reuse in all its formats and possible meanings. It was born in the Madrid School of Architecture (ETSAM) in the year 2001 and, since then, it has evolved and acquired new shapes. Our aim is to study those phenomena inherent in the massive production of real and virtual trash in the consumer society, providing different points of view on the subject that might generate new thoughts and attitudes. We find gaps in these processes of production and consumption that not only raise questions about the way we manage our resources but also about the way we think, we work, we perceive reality.
Far from trying to offer a single manifest to be used as a manual, Basurama has compiled a series of multiform opinions and projects, not necessarily resembling each other, which explore different areas related to trash. We try to establish subtle connections between them so that they may give rise to unexpected reactions. We are not worried about its lack of unity; moreover, we believe it as evocative and potentially subversive values. Besides the visual arts in all its formats Basurama compiles all kind of workshops, talks, concerts, projections and publications.
Basurama acts like a creative linking platform where different agents of the same social network come together. It has created more than 100 projects in the four continents. Its base is in Madrid, but it is also formed by two representative offices in Bilbao (Spain).
Who WE ARE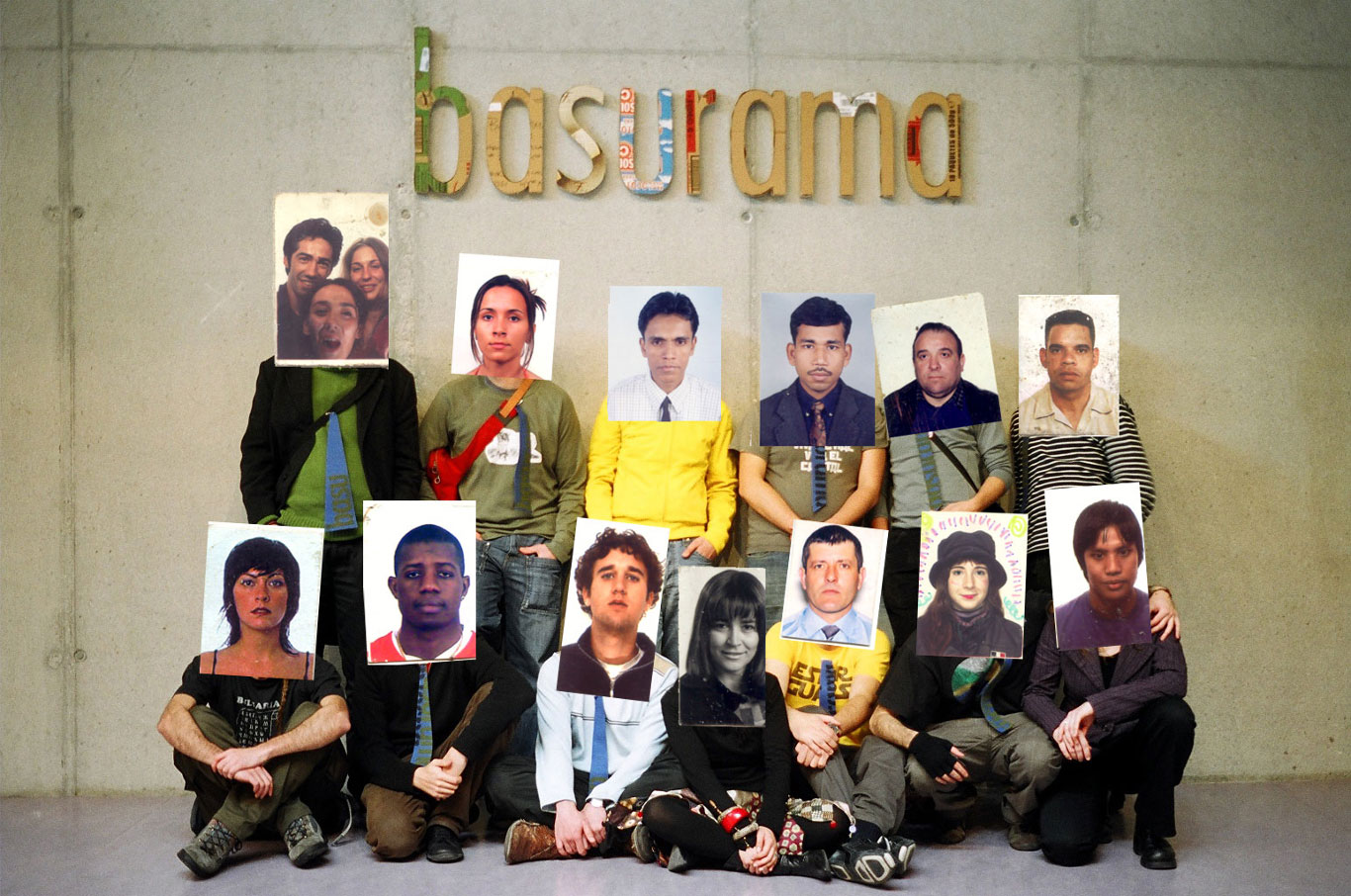 Basurama Madrid is formed by
Mónica Gutiérrez Herrero
Rubén Lorenzo Montero
Alberto Nanclares da Veiga
Manuel Polanco Pérez-Llantada
Nerea Sanz Ferrer
Basurama Milan is formed by
Basurama Bilbao is formed by
Had been part of Basurama:
Carlos Alarcon Allen
Benjamín Castro Teran
Yago Bouzada Biurrun
Juan López-Aranguren Blázquez
CV
You can check our complete curriculum here
MORE ABOUT US
In this video we explain how we see our practice nowadays.
This video from the TV program La Aventura del Saber explains very well many of our recent activities.
In this questionnaire we answer general questions about Basurama, and about and participatory projects and cultural ecosystems.
INTERNS
These people have been interns with us:
Laura Castronovo Albanese (November 2021 – February 2022)
Lucía Gómez Mellado (September 2021 – February 2022)
Gabriel Cazzola (September 2021 – December 2021)
Kenza Jazouli (May 2021)
María Lucía Peña Ardila (March 2021 – May 2021 and September 2021 – December 2021)
Candela Guindo Navarro (February 2021 – June 2021)
Lucía Díaz-Blanco Martínez (February 2021 – June 2021)
Alix Mesguen (September 2020 – February 2021)
Álvaro González Serrano (September 2020 – January 2021)
Regina Lagos González (March 2020 – May 2020)
Andrea Arranz Sánchez (February 2020 – June 2020)
Ana Iris Alameda Olivo (February 2020 – June 2020)
Joanna Poupaki (November 2019 – July 2020)
Eleni Diamantouli (November 2019 – April 2020)
Ángel Taboas Troncoso (September 2019 – February 2020)
David Tablado Aguilera (September 2019 – February 2020)
Clava von Schwerin (May 2019 – July 2019)
Beatrice de Nicola (February 2019 – July 2019)
Pablo Paniagua (February 2019 – June 2019)
Delia Díaz Utrilla (February 2019 – June 2019)
Mirielle Esther Robles (September 2018 – February 2019)
Sandro Cobo Jiménez (September 2018 – January 2019)
Christina Ioannou (September 2018 – December 2018)
Patricia Meseguer (March 2018 – June 2018)
Agathe Tarillon (February 2018 – April 2018)
Fernando Herrero (February 2018 – June 2018)
Maddalena Cerruti (November 2017 – January 2018)
Ignacio Bertola Longhi (September 2017 – January 2018)
Sara Rodrigues de Melo Cruz (September 2017 – December 2017)
Michèle Vidal (September 2017 – December 2017)
Javier Morrás de la Torre (April 2017 – June 2017)
Barbara Ludovico (April 2017 – June 2017)
Anabel Otero Zamora (March 2017 – June 2017)
Pilar de Vera Castaño (March 2017 – April 2017)
Martha Quinche Bautista (February 2017 – July 2017)
Camila Pulidor Ramírez (February 2017 – July 2017)
Daniel Calderón Ramos (January 2017 – June 2017)
Clara Maseda Juan (January 2017 – March 2017)
Victoria Santos Peralta (October 2016 – January 2017)
Laura Corradi (September 2016 – January 2017)
Francesca Alessandro (September 2016 – January 2017)
Jesús Jiménez Ambite (September 2016 – January 2017)
Ana Campillos Sánchez-Camacho (September 2016 – January 2017)
Claudia Berrios (September 2016 – December 2016)
Reem Elattar (July 2016 – September 2016)
Mathilde Noirot (April 2016 – September 2016)
Micol Masetti (January 2016 – Julio 2016)
Francesca Vercellino (November 2015 – July 2016)
Thibaud Dubrule (April 2016 – July 2016)
Elena Gallego (April 2016 – June 2016)
Nerea Sanz (April 2016 – June 2016)
Martina Borfiga (November 2015 – April 2016)
Elisa Zenoni (November 2015 – April 2016)
Marta Martín Funes (October 2015 – March 2016)
Carolina Reguera Olivares (June 2015 – October 2015)
Julia Rubio Ruiz-Ayucar (June 2015 – October 2015)
Virginia Merchán Suita (June 2015 – October 2015)
Eugenio Tarantino (July 2015 – September 2015)
Sara Goic (July 2015 – September 2015)
Kim Leou (June 2015 – September 2015)
Heloise Fontaine (June 2015 – September 2015)
David Crespo (April 2015 – June 2015)
Jezabel Mejías (March 2015 – May 2015)
Sandra San Gregorio (January 2015 – April 2015)
Sara Ababseh (September 2014 – January 2015)
Carol Mattos (June 2014 – December 2014)
Clément Aquilina (September 2014 – December 2014)
Silvia Bean (May 2014 – August 2014)
Colombine Noubès- Tourés (February – June 2014)
Julia García Lozano (February 2014 – June 2014)
Maia Canes (January 2014 – March 2014)
Malena Boullosa (January 2012 – June 2012)